House prices to rise by 3% in 2022 – Zoopla
26th October 2021
The UK housing market is on track to record its strongest year since 2007, both in terms of sales volumes and house price inflation, according to Zoopla in its monthly House Price Index.
Defying the demand cliff edge
The pace of this year's market has proved almost unprecedented, driven by a national re-evaluation of housing, low mortgage rates, and the additional boost from the stamp duty holiday.
High levels of demand, which have characterised the market since May last year, have been running at 30% above the five year average since the summer, defying any expectation that they would fall sharply following the end of the stamp duty holiday [see graph below]. This indicates that forces greater than the stamp duty holiday are responsible for the strength of market conditions.
Looking ahead to the end of the year, demand is expected to surpass levels recorded at the end of 2020, and is on track to continue into 2022.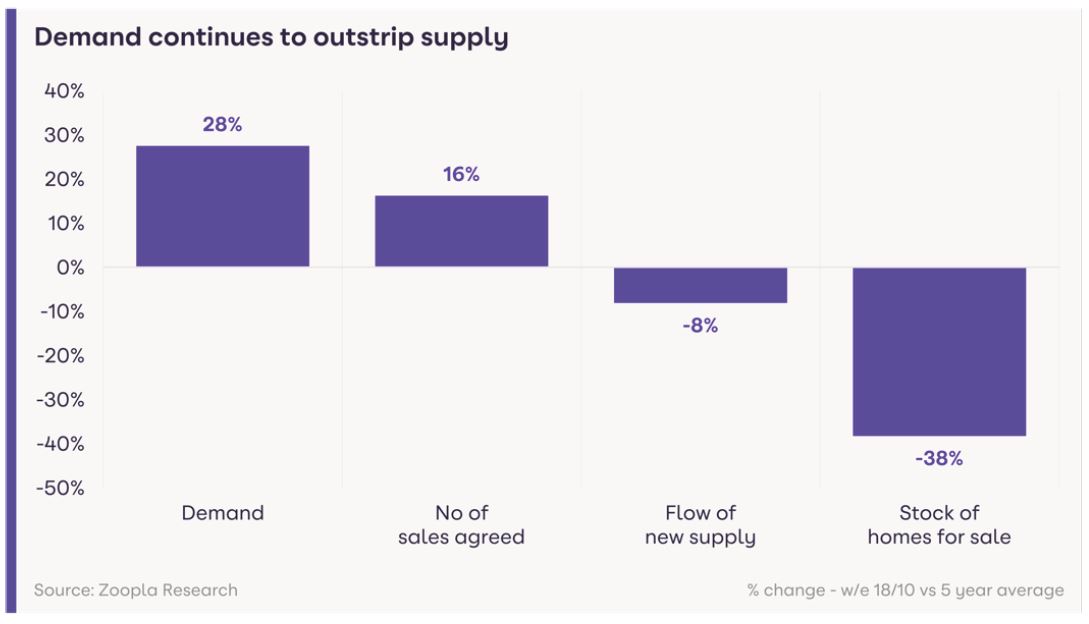 Pandemic momentum
An imbalance of supply and demand is continuing to support UK house price growth, which is currently running at 6.6% with all countries and regions of the UK registering growth rates well ahead of the five-year annual average with the exception of London.
London is registering the lowest house price inflation (+2.3%) and is the only region in the UK where growth is below the five-year average. By contrast, Wales is continuing to top the house price growth table, with current inflation tracking over 10%.
However, demand for homes has not been uniform and analysis shows that the mix of home buyers has undergone a series of shifts over the past 18 months. In the immediate aftermath of the first lockdown in 2020, it was wealthier owners in high value homes that were moving. In 2021 mortgage availability has improved and more first time buyers are returning, and the mix of movers is now returning to more normal levels.
This is resulting in much slower growth in the value of homes where new sales are being agreed, and points to a slowdown in price growth ahead.
Current momentum to outweigh emerging headwinds
The outlook for house price inflation and overall sales volumes is expected to be a balance of positive and negative influences in 2022.
The impact of the pandemic on home buying decisions has further to run, albeit it will be less frenetic. This will be supported by the scale of financial gains homeowners have seen in the value of their homes since 2020.
Primary market momentum catalysts for 2022 stem from the ongoing reevaluation of housing needs, increased equity, and moves in parts of the labour force to more hybrid working. Taken together, these factors will continue to bring buyers and sellers into the market.
Furthermore, the scarcity of homes is set to continue well into 2022, supporting headline house price inflation.
Headwinds for the market will come from increases in the cost of living, higher levels of inflation and tax increases in 2023. The consensus amongst economists is that higher mortgage rates look to be a certainty in 2022, which in turn will directly impact household buying power.
However, the predominant market challenges will stem from unrealistic expectations from sellers around sales prices, and a lack of homes for sale deterring new entrants to the market.
The outlook for 2022
As the UK emerges from the impact of the pandemic, housing transactions are expected to decline by 20% from their high of 1.5m in 2021, to 1.2m in 2022, in line with the long run average, but still relatively high compared to the last decade.#
House price growth is expected to be 3% by the end of 2022 with the highest growth projected for the East Midlands and North West England while growth in London is projected to remain low at 2%.
It's worth noting that affordability levels have improved by 10% in London since 2016, but affordability remains well above the long run average. This will continue to limit potential price rises in the highest value areas of London and southern England in 2022 and beyond.
Mortgage rates are likely to increase modestly in 2022 ending the year closer to 3%, which would dampen demand for some buyers with mortgage rates still being low by historical standards. Any increase in mortgage rates is more likely to impact sales volumes than prices.
By contrast, existing borrowers are more insulated from higher mortgage rates than they have been in the past and, even if they do go up, competition amongst lenders will remain intense. Over 80% of mortgages are on fixed rates, many for five years or more, and stress testing has already ensured they can afford mortgage rates of 7% – significantly higher than where the mortgage market is heading.
Richard Donnell, Zoopla, commented:
"2021 is set to be a record year for the housing market with the most moves by homeowners since 2007 and nearly £500bn of home sales. The impact of the pandemic on the housing market has further to run but at a less frenetic pace. We expect the momentum in the market to outweigh some emerging headwinds from higher living costs and the risk of higher mortgage rates.
"The latest data shows a turning point in the rate of house price growth, which we expect to slow quickly with average UK house prices up 3% by the end of 2022. "